Neo FATTY NFWW24 Wall Washer
LED Wall Washers are ideal for indoor or outdoor architectural lighting. They are the perfect solutions for dynamic illumination of the walls in homes, hotels, clubs, theaters, casinos, shopping centers, bridges, theme parks, etc
Ease of directing the light with 180° rotary angle
With mounting gears for easy installation and removal;
Long life span of up to 50,000 hours with high quality LED's;
Waterproof die-casting aluminum alloy housing;
High efficiency PMMA optical lens;
Tempered glass cover, excellent protection and optical functions.
Chip type: 1W High Power LED
Available colors: cool white, warm white,
RGB. (Other colors available by request).
LED Quantity:
7 ÷ 36 pcs.
Housing material: die-casting aluminum
Lifespan: ≤50 000 hours
Dimensions: L(310 ÷ 1040)xW71xH72 mm
Connectors: 3 XLR
Weight: 0.7 ÷ 5 kg ± 5%
Rotary Angle: 180°
Working temperature: -20 ÷ 50 °C
Humidity: up to 90%
IP Rating: IP65
Electric parameters
Input voltage: 110 ÷ 220 VAC / 24 VDC
Power consumption: (7.5 ÷ 38) W
Controlling system (optional): DMX controller
Effect: static colors,
flash change,
intersecting change,
chasing change,
wash function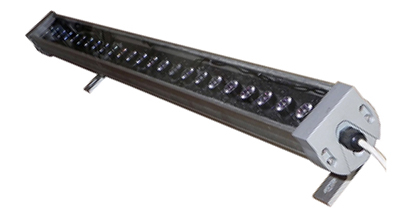 Conformity with RoHS Directive 2002/95/EC - Pb. Cd. Hg. Cr+6. PbDSs 6 substances complies to RoHS standard.