NSQ24W-LED square wall washers adopts 1W high power LED as light source. His special small shape can bring different color lighting effect for small space.
This wall washer can be divided into single color. The lights use 5-pins signal connection cable connecting, sub-controlled by DMX console or DMX512 controller. It has buttons and digital window on the back, by means of you can choose numerous lighting effects, including static color, jump changing, gradually changing, flashing frequently, etc. Or you can also use DMX console/controller and get various others lighting effect.
It is IP66 and can be used both indoors and outdoors. You can install it conveniently for its good design. On the base of that, there are special install hole. LED belongs to luminescence and can emit various color lights. Wall washers adopts LED as light source and can be used in building, external decoration, stage,meeting room, show room, ancient construction group, square and so on.
Material: Black painted aluminum
Dimensions: W210xH180xH70 mm
Connectors: 5 XLR
Weight: 3.2 kg ± 5%
Rotary Angle: 0 ÷ 180°
IP Rating: IP66
Operating Temperature: -20 ÷ 45 °C
Lifespan: 50 000 hrs
Lighting Source: High Power LED
LED Quantity: 24
Color temperature: 6500K
Input Voltage: 100 ÷ 240 V AC
Working Voltage: 24 V DC
LED Current: 350 mA
Power Consumption: 24 ÷ 30 W (max)
Beam Angle: β=15/15º, 8/8º
Projection Distance: 20 ÷ 40 m
Signal Standard: DMX512 manual addressing (RS485)
Control System: DMX512 Controller or Console
.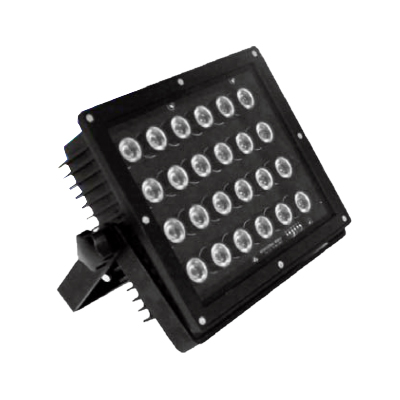 Choosing your lighting effect
Wall washer has Lighting effect choosing buttons and digital screen, by which we can choose total 13 different lighting effect such as static color, jump changing, gradually changing, flashing frequently, etc. Lighting effect choosing by pressing left/right button. Current lighting effect number will show on digital window. ADD: 001÷512, DMX address (accept DMX signal)
One power port
One DMX signal input port, 5-pin waterproof female socket
Please use the product according to the requests of "operating environment".
Every wall washer has 2 addresses, the 1st wall washer's address adds 2 is the address of the next wall washer.
When using the wall washers, if they have the same lighting effect, then they should be set the same address.
The max address of the wall washers should not exceed 510.
There is only one master device in a group of wall washers. The "master" means the wall washer in dominating mode, as well as controller or console.
If there are large amount of wall washers should be used together, please refer to "Connection diagram".
The distance between controllers or amplifier should not be over 80 meters, the distance from controller or amplifier to the last wall washer should not be over 80 meters.

Conformity with RoHS Directive 2002/95/EC - Pb. Cd. Hg. Cr+6. PbDSs 6 substances complies to RoHS standard.